Is CS:GO hard for beginners?
The answer is both yes and no. The gameplay itself is not difficult to learn, but when you consider all the tricky aspects, it suddenly becomes more complex. For beginners, it can be hard to know where to start and what to focus on. You will come a long way in understanding the basic CS:GO tips mentioned in this article. The 12 tips will improve your understanding of what is important in the game and build a solid foundation for when you're ready to take your game to the next level. It's worth mentioning that most of the tips also apply to advanced players.
ALWAYS FOCUS ON GOOD CROSSHAIR PLACEMENT
Crosshair placement is one of the most important aspects of your aim. It's about having your crosshair in the most effective position at all times. This improves your precision by limiting how much you need to move the mouse before your crosshair is on the target. A rule of thumb is to always aim at head height, but in some cases, a body shot is enough to kill the enemy.
DON'T FORCEBUY EVERY ROUND
The economy plays a huge role in CS:GO. Force buying every round will mess up the economy setting up your team for failure. The most basic economic rule is: do NOT force buy every round. Instead, you should look into how the economy works to know what is best to buy based on the current situation. Before making the decision about what to buy you need to consider the team's total amount of money, does anyone already carry weapons and utility, the loss bonus, and the in-game score.
LEARN TO USE BASIC UTILITY
Using utility gives a great advantage when you attack or defend a bombsite or when you want to gain control over specific map areas. When used correctly, the utility makes it much easier to outplay your opponent. One effective flashbang can get multiple kills, a smoke can prevent the enemy from pushing important areas and molotovs can clear out specific positions. Start by focusing on the easy lineups that are easy to remember.
Learn how to create your own grenade practice server.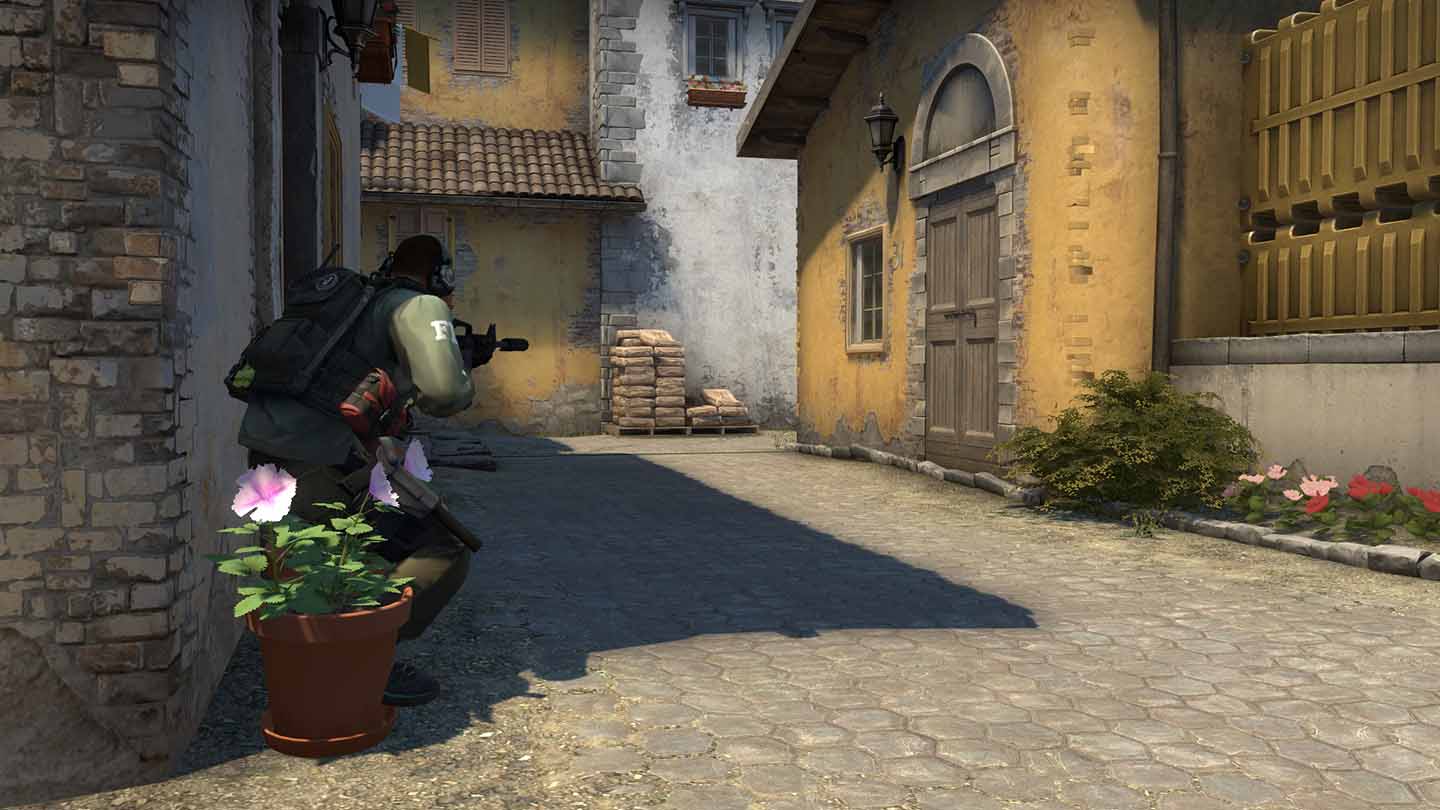 LEARN MAP CALLOUTS AND GIVE INFO WHEN YOUR DEAD
Communication is highly important for your team play. If you don't give info about the enemy position when you're dying your teammates will be left behind. To give the correct information you need to know the name of the different areas and positions on the map you are playing. These are known as callouts and are used to tell your teammates where you and the enemy are on the map.
BECOME GOOD AT ONE MAP AT A TIME
Map knowledge is about knowing the different positions, angles, meeting points, utility, etc. Learning all these aspects on several maps at once is a tough challenge and is not where you want to put all your energy when you try to learn how to play the game. When you focus on learning one map at a time it becomes much easier to remember how that map works and it gives room to focus on important aspects. This is not to say that you shouldn't play more than one map.
TRY NOT TO MAKE TOO MANY NOISES
Running and jumping create a lot of noise and make it easy for the enemy to guess your position and in which direction you are moving. Instead of always running around you should start walking more often to not cause any noise. Sometimes it can be a good idea to make a lot of noises on one side of the map to take away attention from the other side. Also, reloading can easily be heard by the enemy.
USE YOUR AUDIO TO COLLECT VALUABLE INFORMATION
The audio information in CS:GO is an often overlooked aspect. You can get so much valuable information from the sound around you. When you are in a clutch situation you don't want to hear your teammates talking in the background. If your teammates are talking too much use a mute bind to get total silence.
bindtoggle 5 "voice_enable 0"
LEARN AND UNDERSTAND THE BASIC AIM MECHANICS
Aim is one of the most important aspects of CS:GO. With great aim you can defeat most of your enemies. Counter-strafing, spray control, tapping, bursting and flicking are all-important aim skills to learn. Your aim is a combination of motion between the finger, wrist, elbow and shoulder. The precision of your aim mostly comes from your fingers and wrist movement. Therefore, it's important to find a comfortable mouse grip where you have great control.
DON'T RUN AND SHOOT UNLESS YOU HAVE THE RIGHT WEAPON
Almost every weapon becomes highly inaccurate when you run and shoot. The bullets will start to fly in every direction. Some weapons are built better for shooting while running. Especially the SMG's and pistols are made for this. To achieve the highest accuracy you need to crouch down.
PRACTICE DEATHMATCH REGULARLY TO GET MORE AIM REPETITIONS
Deathmatch is a great way to practice your aim skills and to get a lot of aim repetitions in a short time. Unlike a competitive match where you often wait for minutes to get into a gunfight. You can choose to play with the weapon you want to improve at and choose to focus on different aim mechanics.
LEARN TO MASTER THE FIRST 10 BULLETS WHEN SPRAYING
It is hard to control a full weapon spray. Some weapons are easier to control than others, but they are all hard to master. When you want to learn to control the spray, it's great to start by practicing the first 10 bullets because it's the easiest part to control. When you are in a firefight and you haven't killed the enemy after 10 bullets, it's likely that you have been killed yourself.
STOP WORRYING ABOUT YOUR SCORE
CS:GO is highly based on teamplay and only playing for a high score won't win you more matches. Sometimes it's better to sacrifice yourself for the team. For example, if you have low HP you should be the first to the bomb site to get the information. Then your teammates can after and trade kill if you die.